By Matt Dougherty
The U.S., Italy, and Spain have the most cases of COVID-19 across the globe, having overtaken China, the point of origin for the pandemic. For these countries, as well as their neighbors and others, the pandemic has led to dramatic shifts in manufacturing practices and capabilities. Manufacturers everywhere are now challenged to figure out how to operate as they face a rapidly changing industry.
Global Impact
Italy is in the midst of its most extreme government mandates to date, with almost all production and shipping activities ordered to cease until April 13th, as COVID-19-related deaths still surpass that of any other nation. Unions mobilized and fought for enhanced restrictions, but call centers will continue to operate as well as the production of plastic packaging, and select paper and chemical products, reports The New York Times.
In a statement released to Hospitality Design on March 24th, Italian bath manufacturer CEA Design reported that it is continuing production and customer service during the mandate, while taking measures to ensure the safety of its employees. "We are confident to follow up on our commitments with our customers by carrying out the work in the best possible way," says general manager Roberta Bertacco. "We believe that adopting a positive attitude in the face of life's difficulties is a sign of courage and responsibility."
Meanwhile, offices and showrooms in Spain are closed while warehouses remain open to deliver samples and orders, albeit with strict security measures. So far, local interruptions to business include not being able to visit clients, specifiers, and distributors, says Hector Valls, key account manager at surfaces manufacturer COMPAC. However, a larger slowdown looms as U.S. clients start to put their orders on hold. "There is going to be a potentially unsuitable increase in delivery lead times," Valls continues. As a result, confidence in the market will dip considerably and the workforce will have to be reduced, he adds.
Production Capabilities
Help, however, may come from trading off production locations as virus hotspots move to different countries. Max Munn, founder of the Mount Vernon, New York–based MunnWorks, estimates his U.S. facility is working at about 60 percent capacity, while his Chinese one is working at 125 percent, as the country heads back to work after reporting minimal domestic cases in recent weeks. Small orders have been postponed, but large ones are catching up, as the company hired extra staff in China to help clear out the backlog. "We're in pretty good shape for everything coming out of our Chinese facilities," Munn says. "I don't expect the supply side to be a problem."
This is a reversal of the story from a few weeks ago, when North America was the source of materials for the globe while much of Asia was sheltering in place. "Fast forward to now, and we are seeing a total 180," says Jeff Lazerowich, president of hospitality at WSA Hospitality, a consortium of furniture and lighting manufacturers serving the industry.
At the moment, U.S. ports remain open and staffed to load and offload products, but as cases grow before the outbreak's peak, delays are still imminent. "The most immediate obstacles we face today are forecasting delays caused by mandated closures by the government," says Lazerowich. "It changes minute by minute, and we have an obligation to share each and every change with those who trust us with their projects."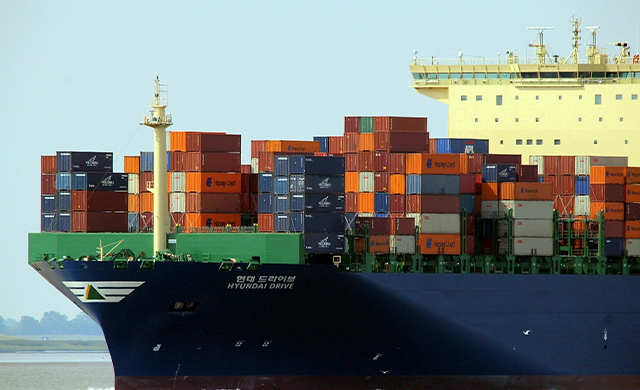 Economic Fallout
Munn predicts that the economic effects will stick around long after the virus peaks, with projects in the hotel pipeline finishing gradually and new projects slow to pick up until at least the start of 2021. "We expect a year from now, maybe 15 months, we'll return to some form of normalcy," he says.
Many companies won't be as fortunate as MunnWorks and will face a backlog of projects in factories, and then delays in freight as everyone attempts to get their product out at the same time, likely in the second half of 2020. "The analogy is similar to a twisted hose—the water builds up, and once it's untwisted, it all rushes out at one time, usually flooding a single area," Lazerowich explains. As a result, warehouses are expected to have limited capacity as shipping gets overcrowded.
Lazerowich says the lesson to be learned from this situation is around the industry's reliance on the global supply chain, when multiple countries work together to create a product. "If any one of these countries has a stay-in-place order for non-essential business, the supply chain is broken," he says. To this point, the COVID-19 fallout may see owners and buyers diversifying their manufacturing relationships, to avoid having all their eggs in one basket.
For some manufacturers, especially small and medium-sized brands in Europe, government aid and support will play a large role in recovery. Yet, some major players may not re-enter the field right away. "Some brands may just take the whole year as a loss and not even try to do anything until next year," says Carlos Galtier, director at Interiors from Spain, which counts 200 companies in its portfolio. "This is going to change the paradigm of consumption, and it is possible that it will shake the foundations of today's markets."
When manufacturers go back to producing for a glut of projects in the pipeline, there will still need to be a new attitude around production, amenities, and overall design. "Hotels and restaurants will need to understand new fears that our global citizens have," Lazerowich adds. "[But] no one is more equipped to handle this challenge than the hospitality industry and those who make it special."
Article originally posted on Hospitality Design.